So, this weekend, there is a sale at Dreamspinner: 25% off while you're shopping. Woot!

But wait. It gets better.

Halloween Howl from Dreamspinner Press

Meet Gary: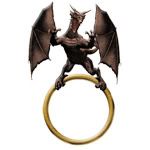 To celebrate Halloween, Dreamspinner is inviting people to come trick-or-treating at our web site. Thirty-one of our fantastic authors have donated free short stories. Search through the different pages on the web site for Gary the gargoyle. Each time you find him, click on him for a free download by the author whose page he's hiding on! And make sure to check out the end of each story for a discount code good any time in the next year.
Links to the short stories go live October first.
But wait! There's more! lol. Yes, that's right, folks, more good news. Maybe for me more than anyone else, but today I signed a contract for my first Dreamspinner novel. Not short Story. Not Novella or Day dream or anything else. Novel. WOOT!
So yes, my we eked = Dreamspinner win. I'm going to search for Gary and some free reding. How about you?
Enjoy!